Emily Simkins, aged 19 from Hitchin, has won the Riso Gallo UK & Ireland Young Risotto Chef of the Year 2023. She gets an all-expenses paid, four-day work experience with renowned chef Fabio Pisani and Alessandro Negrini and their team at the two Michelin-starred Il Luogo Aimo e Nadia in Milan, alongside a visit to the rice mill of Riso Gallo.
The competition included 12 young chefs in the Grand Final at Tottenham Hotspur Stadium, with the award being presented by Ambassador Lambertini, from the Italian Embassy in London.
Simkins impressed with her Jerusalem Artichoke Risotto. Chairman of the judges, Paul Gayler, said: "This competition goes from strength to strength; a testimony to the young chef talent emerging in this country. Emily's dish was not only perfectly executed, but also beautifully balanced, with traditional creaminess found in a great risotto, clever textures and presentation. An altogether outstanding dish."
Simkins said: "Wow! What an experience. I first entered in 2021, when I joined level 2. This gave me the inspiration and drive to try again in
2022, producing a humble, seasonal and sustainable dish – Jerusalem Artichoke Risotto with Artichoke Bark, Leeds Blue Yorkshire Pecorino, Toasted Hazelnuts and Truffle Oil. I was awarded the wild card in my heat, and was luckily pulled through to the final.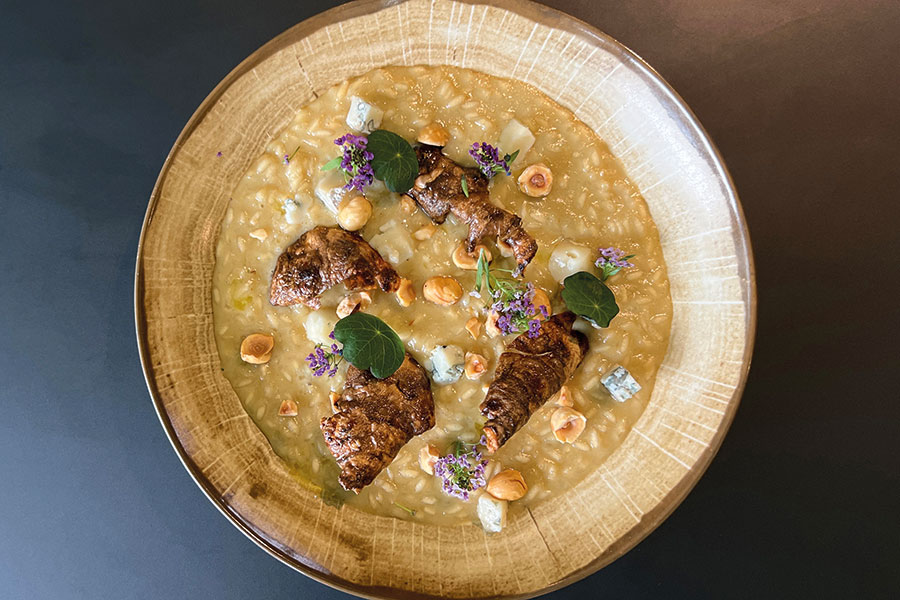 "Since then, I was in at college at any opportunity, making sure every element on my dish was as perfect as it could be," continued Simkins. "At the final, the buzz of the stadium was thrilling. I was in so much shock and disbelief, but incredibly happy. I'm still on cloud nine and will be for a very long time."
Jason Morrison, MD Riso Gallo UK, said; "We at Riso Gallo are proud to support our young British chefs, with work experience opportunities. Their kitchen abilities have been seen and tasted by those that they are going to work with."
The final judging panel was led by consultant chef Paul Gayler MBE, along with Danilo Cortellini, consultant chef at the Italian Embassy; Adriano Cavagnini, executive chef at the Bvlgari Hotel; Fabio Pisani (patron with chef Alessandro Negrini) from Il Luogo Aimo e Nadia in Milan; Davide Degiovanni, head chef at 5 Hertford St; and Francesco Dibenedetto, head chef at Bibendum in London.
Pisani commented: "This competition is a great opportunity, not only for the young chefs to grow, but also for us to meet a different culture and food perspectives, share new ideas and imagine – together – different ways to honour and celebrate the finest rice."
In such a close competition, the judges awarded two runner-up places – Lee McDonagh and Nathan Cooper – who have both won work experience at the Italian Embassy in London and also at the new Claude Bosi restaurant at the Peninsula hotel.
Riso Gallo, the first international brand in the sector to have produced rice from sustainable agriculture, is supplying Tottenham Hotspur Stadium with its range of sustainable rices.
Morrison continued: "For over 165 years, Riso Gallo has supplied many top chefs across the world with Italian rice of the highest quality. We understand their passion and commitment to their craft, and the years of training they undertake. We launched this competition to help foster and reward the next generation, who can inject personality, passion and creativity into their own vibrant, exciting risotto dish."