Lovers of pizza, pasta and Italian food were spoiled for choice as IFE, International Food & Drink Event and Hotel, Restaurant & Catering (HRC) returned to ExCeL London from 20 to 22 March 2023.
Chefs in action
Over 27,000 leading industry buyers from across retail and hospitality descended on the shows to source the latest food and drink products, design and décor suppliers, professional catering equipment and hospitality tech providers, all with the purpose of growing their business and elevating their offering for customers.
New demo kitchen, stage and networking area, Chef HQ, curated by Chef Publishing, was a hit with visitors to the shows and packed throughout the three days with top chefs from the UK and Europe.
Next Level Chef UK judge Paul Ainsworth, chef patron at Number 6 in Padstow, was in conversation with the show winner Jade Greenhalgh, while National Chef of the Year, Ben Murphy, entered the kitchen to highlight some of his favourite culinary trends.
Niall Keating's Paradise Carriage served as the area's colourful demo kitchen, with Niall himself taking to the stage to discuss the evolution of the idea since the easing of Covid restrictions and his career to date as a top UK chef.
On the show floor in HRC, suppliers like Forni Dorigo, providers of professional pizza ovens, were on hand to discuss their latest new products and catering innovations.
At IFE, the Italian Trade Agency pavilion was the heart of the action. Alongside a busy line-up of leading Italian food brands including Acetaia Giusti, a balsamic vinegar producer founded in 1605, Puglian extra virgin olive oil brand, Frantoio D'orazio, and Neapolitan master coffee roasters Irio caffè, was a line-up of famous faces as chefs including Gennaro Contaldo, Francesco Mazzei and Enzo Oliveri cooked up some Italian classics.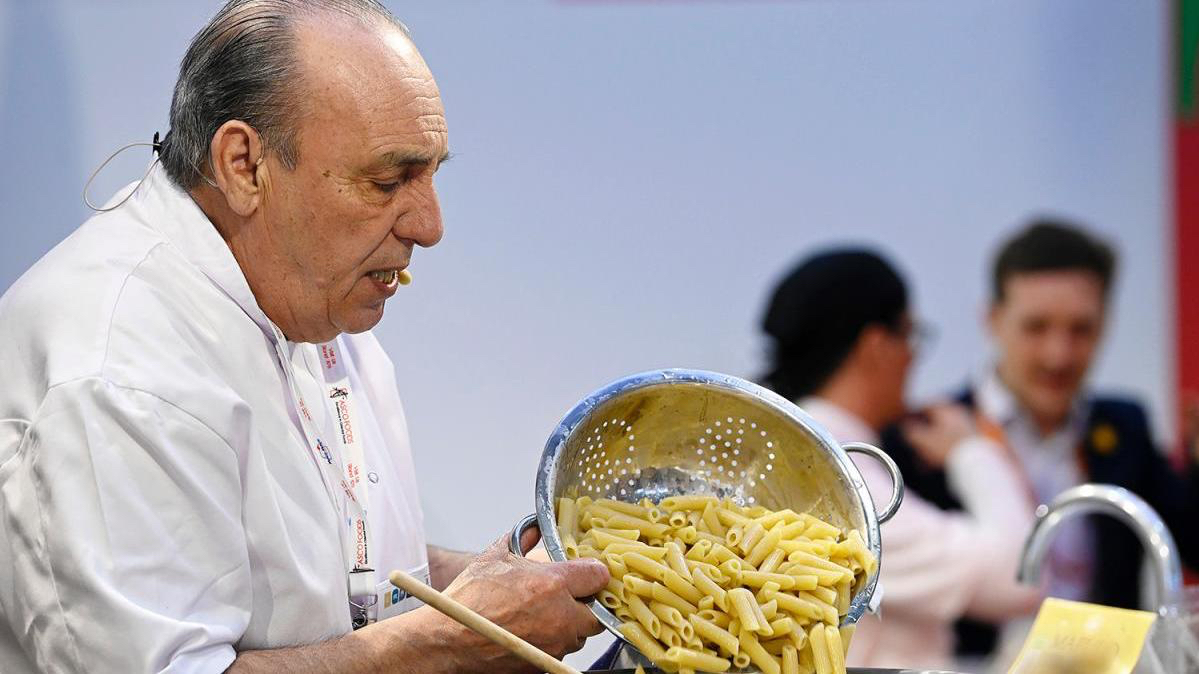 The chance to network
Elsewhere at the show, visitors and hospitality business owners could meet brands such as Purezza, whose head of retail, Leah Cooper, commented: "We're a pizzeria based out of Brighton and with restaurants in Brighton, Camden and Manchester. We have our own manufacturing unit just outside of Brighton where we manufacture ingredients - mostly our vegan mozzarella and a burrata-style cheese - for our own restaurants but also for other foodservice and hospitality business, restaurants and pizzerias across the country.
"It started when we didn't feel that other plant-based mozzarellas on the market were right for our pizza, so we took some time to develop our own. This is the third iteration over eight years of development to get the right product and we've just moved into a frozen grated format, which is much easier for restaurants to use, melts easily from frozen and doesn't burn."
Also showcased at IFE were Napoleoni (Gluten Free) Italy, a three generations old bakery making its mark in the gluten free market. The company has a dedicated laboratory in Naples for gluten free products and produces a wide range of cakes and bakes for retail and foodservice.
In IFE's New Products Taking Theatre, the finalists of IFE's Big Business Break took to the stage to pitch their products to the judges - Harry Dulai (managing director at Surya Foods), world food expert Noor Ali and David Jago, principal consultant at Mintel.
While the judges praised the innovation on show from Dicorne, Mama Dolce and Fanui, The Mighty Kitchen secured the successful pitch and up to a million pounds in investment and support from Surya Foods.
Harry Dulai, MD of Surya Foods, said: "We were really impressed with the calibre of entries. We are always looking for great new products to add to our portfolio and new brands to work with. This is what inspired our partnership with IFE.
"IFE is perfectly placed to connect us with new talent, it is literally the place new brands cut their teeth and take their first steps into the world of FMCG, so it is really fantastic to have received such a fantastic response in our first year.
"We are very excited to have this opportunity to work with The Mighty Kitchen to help drive growth in the UK market. It really is an innovative product, plant-based but with the most genuine chicken texture I have come across so far in the market. We can't wait to get discussions going."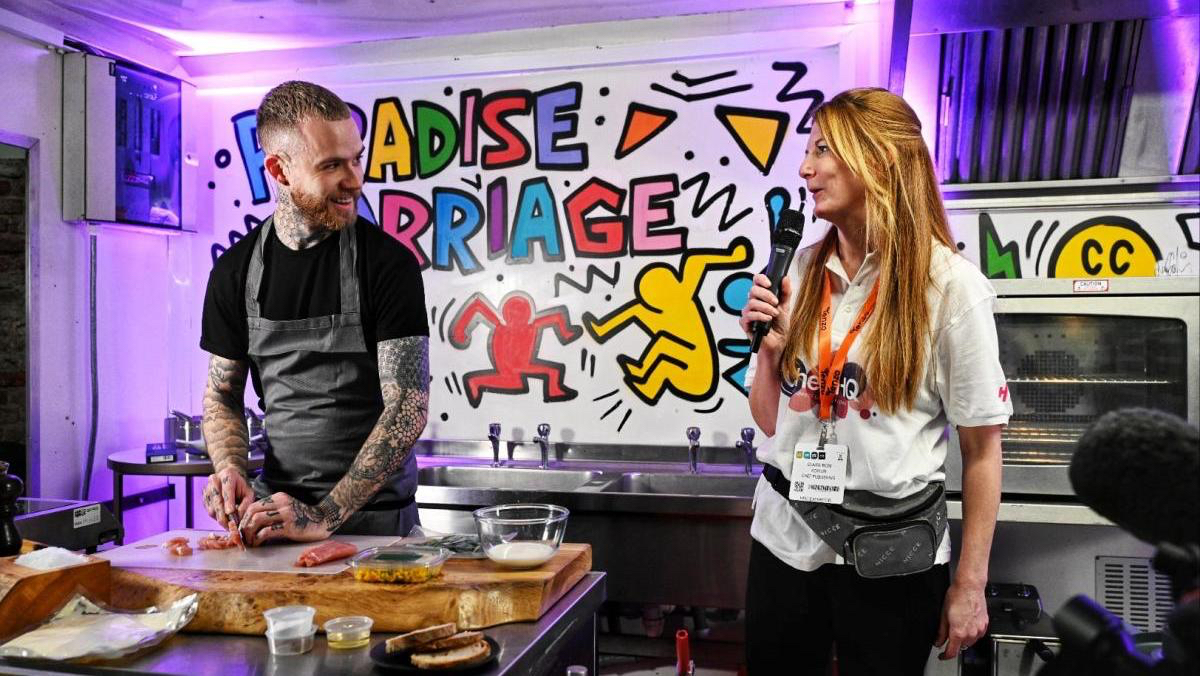 Buyers celebrate a successful 2023 event
Feedback from visitors to both IFE and HRC has been ecstatic, with Abigail Wilkinson, category buying manager - cooking ingredients & global cuisine – grocery at Tesco, commenting: "A really well organised day and a great opportunity to catch up with our current suppliers and discover potential new partners."
Dermot Connolly, strategic sourcing director for retail & impulse categories + Food CPG at Aramark, added: "Loved the show. Great to have the buzz back and meet people again. Great innovation and solutions for the market and some superb offerings and NPD solutions. Also, liked that HRC and IFE were in the same hall as it made the buzz all the more special."
Louise Dolan, director of ambient at Waitrose said: "IFE was a perfect opportunity to meet so many current and potential suppliers in one place; a great use of time."
James Perry, head of food & beverage at Motorpoint Arena & National Ice Centre Nottingham, concluded: "This year was our first visit to IFE and HRC as a venue and it was an incredibly rewarding trip for us. We've gained some contacts, new ideas for tech and ticked off some items for a few projects we have. Would highly recommend - a one-stop shop for everything food & beverage."
Next year
IFE and HRC will return to ExCeL London on 24-27 March alongside IFE Manufacturing, The Pub Show @ HRC and International Salon Culinaire. To find out more and keep up to date with the latest show news, visit ife.co.uk and hrc.co.uk.