Sunny Chhina is the new vice-chair of PAPA and the man behind Fat Pizza. There's no one better to guide us through the franchising maze.
Understanding franchising
My parents were franchisees with Perfect Pizza back in the 90s. I became a franchisee with Perfect Pizza, which then became Papa Johns, so I've seen things from that side. In terms of Fat Pizza, I was being pushed by people like Just Eat, asking why I wasn't expanding. The choice was between opening our own stores or becoming a franchisee. Our model suited both, as we are very centralised in terms of what we do. But because I knew franchising, we went with that.
Key areas for a productive process
From my point of view, you need to be able to deliver a framework for people to be successful, whether it's training or techniques. We even provide 90% of the marketing that we do. The franchisee can be at the lower level, making and delivering pizzas; or they can be managers. The advantage for me is that you have someone else who has a vested interest in ensuring the local store does well. Once that hard work is done, you think about menus and systems – but ultimately, it's about delivering a good-quality product, as per the specifications, alongside exceptional service.
Main obstacles to overcome
The age-old challenge, which I understand more than most having been at Perfect Pizza, is when sales stagnate. Things are great when they're increasing rapidly, but on the flipside, you start to ask yourself questions: Is it my fault or the franchisees? And if so, what is wrong? You have more control as an independent.
With our model, we are looking for people willing to get their hands dirty, so to speak. Either they're going to run it, or a manager is, but we've made a lot of things easier. We have a call centre, so store managers don't have anyone shouting down the phone asking why their food is late. Therefore, it's imperative deliveries are on time. I can understand intimately a franchisee's pain point and eliminate them at an early stage.
The Fat Pizza franchise model
We've got 30 at the moment, but stopped opening in 2022. With the energy crisis and issues with increasing costs, supplier issues and lead-time frustrations, I couldn't give a positive profit-and-loss outlook. However, we are restarting around May, with one or two a week. Fat Pizza is an easy concept. We have stores similar to larger chains in terms of the way they look; there are eat-in stores; a pub conversion has just happened. Also, delivery-only stores are opening commercial kitchens, so there is a varied model – that adds to the existing business. But at the end of the day, my concern is always delivery, which is our main port of call. The takeaway trade is a bonus, but also a separate business. If it's not working so well, we need to assess our burgers, milkshakes and desserts too.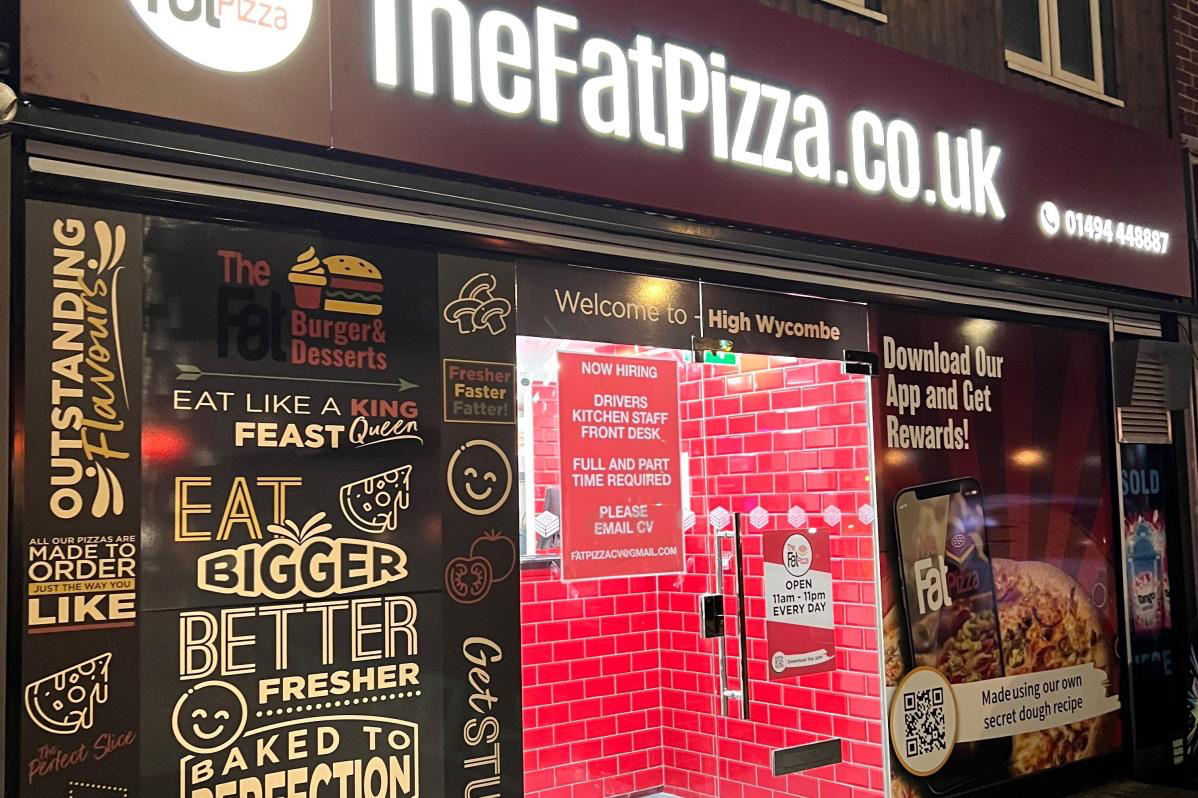 Ahead of the tech curve
We've had live delivery driver tracking for seven years, and pride ourselves on being at the fore in terms of useful tech. Customers can watch the driver in real-time. That's the norm for us, so they expect it. When you have that sort of communication, you've ringfenced your business. The new, younger generation of consumer has high expectations – and they need to be met.
Our call centre is housed at a 3,000sq ft commercial kitchen in Southend. We also use it to pilot new products and do testing.
Another key sector is virtual branding – for example, Fat Chick, which appears on aggregators. It's supplementary, and of course the delivery mode has grown exponentially. We put ourselves on there, looking to evolve and redevelop. The nature of it keeps on changing in terms of what people are looking for, but the core is Fat Pizza. Our competitive advantage is I know we've got the product – and I create the secret recipe. I've also been in the business so long, I learnt digital marketing via phones, graduated to digital, and have now developed the app. Reach and awareness is important, but all I care about is sales. The strategy is all mine, and the key is exceptional pizza. That's everything!
Trends for the future?
I believe that menu re-engineering is a given, considering the increased costs of ingredients. Yes, prices may come down at some point, but others will remain high, no matter what. You can't keep putting higher prices on the consumer, so you must consistently examine what you are doing and how you are doing it – producing a quality product, but maybe in a different way. A lot of progress is related to menu development.
The aggregators are also in a bit of a quandary as to what they actually are. The grocery delivery sector has taken off hugely, so revenue for takeaways (chains and independents) is under a lot of pressure. The app and website functions are so vital. The online aggregators are giving more information to consumers, who can simply compare more pizza shops, so it's imperative everything you do is for a reason, and you believe in what you are saying.
Advice for any future franchisees?
The first thing is to make sure you have systems in place. If you're moving from one business to two, ask yourself if you can take a four-week holiday. If you can, then you've got the ability to expand. Obviously, you need to be successful in your pilot, which is why the company stores can be so important – profitability is a given. Also, I don't think you can be a successful franchise if you're relying on a skilled chef. When they go, things change, and a new face may have different opinions. Therefore, setting up simple processes is so important. Our dough is made in-store, but you need to deskill that process. It's the first thing we teach people, and we have videos on how to make everything. That's the way I've done things.
I went to a seminar in Las Vegas years ago, and the message was that you need a system in place so that you don't have to rely on common sense. The simpler the instructions, the better – and people love it. Finally, look after your staff. With the current skill shortages and lack of labour, how you retain people is key.